The Benefits of On-Site Medicals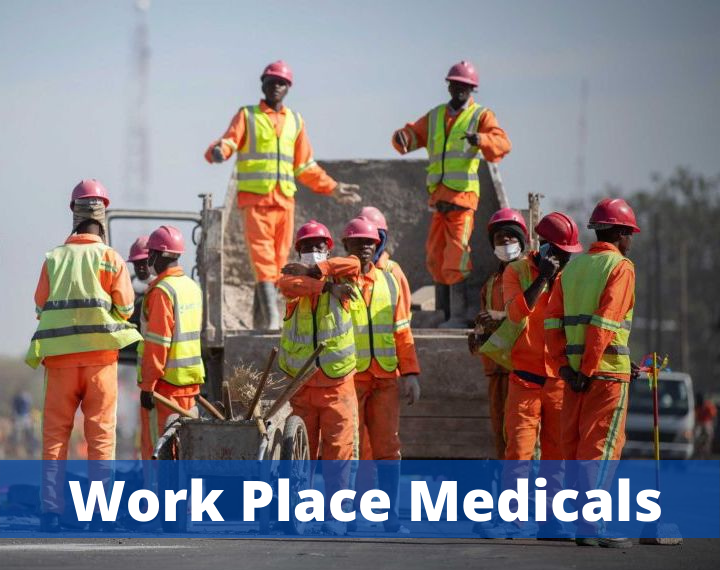 On-site medicals provide the business owner and employees with a wealth of benefits. For starters, the employees don't have to worry about transport to the clinic (and the associated cost) as they can just attend work as per usual. The tests are carried out swiftly and meticulously, and the results thereof are kept private. When dealing with our team and ordering on-site medicals, you can expect us to have the utmost integrity and discretion.
On-site medicals can be used to monitor the effect the working environment is having on an employee's health. The tests include testing for toxicity, as well as hearing, eyesight, stress, and more. If there is a specific test that you would like carried out, simply let us know and we will do what we can to assist you.
On-site medicals can help you ensure that workers are provided with prompt medical care when required. It can also help you to understand the negative effects of the work environment, and help you to set mechanisms in place to protect the health and safety of your workforce. By monitoring an individual's health status, you can also avoid potential litigation brought about by disgruntled employees whose contracts are terminated. In many respects, on-site medicals will help you to protect yourself, your business, and your employees.
It is important to book your occupational medicals with a team that has experience in your industry and knows what the legislation and regulations demand. At FITMed24, we are familiar with the requirements in most industries and can help you to simplify the process. We apply our knowledge of each industry and use the data provided by you to ensure that your business is compliant at all times.

On-Site Medicals Available for all Industries
Whether you work in the mining industry, production and manufacturing industries, or food-handling industry, on-site medicals are an absolute must. In fact, they cannot be avoided, as non-compliance can result in a hefty fine and/or the business being closed permanently or for a certain period of time. At FITMed24, our medicals currently start from as little as just R320, so there is really no excuse. Now occupational medicals are an affordable endeavour for all.
If you would like to book regular on-site medicals for your business and ensure that you are compliant with the legislation and regulations in your particular industry in South Africa, we recommend that you get in touch with us directly.
You can reach us by email or telephone during office hours.
Recent Posts
link to How to stop the spread of Coronavirus
COVID-19 is a new illness thought to originate in China. Lots of people call it Coronavirus, which is the family of virus it belongs too. It is a virus that affects your lungs and ability to...
link to 5 Benefits of Mobile Medical Testing
The human element of your business is, in fact, one of its greatest strengths. Having employees that are efficient, passionate, loyal, and healthy can take your business from average to amazing in a...